People often don't realize just how important it is to find the right makeup tools for flawless makeup application. Luckily, we've got just the thing for you! Our Vianne SILC.ON Makeup Sponge is making waves out there with the amazing new features it has. First up, when you dampen the beauty sponge, it doubles in size and becomes softer. This enables it to smoothly blend out foundations and concealers. Still in doubt? Here is a side-by-side comparison of the SILC.ON Makeup Sponge when it's dry vs. when it is dampened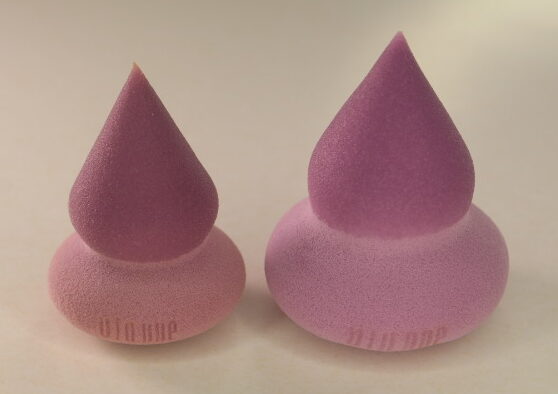 Just look at the size difference! Bigger, bouncier, and squishier. Dampening the SILC.ON Makeup Sponge will give it the bounce it needs to blend your base beautifully without fear of a cakey face at the end of the day.
The top half of the SILC.ON Makeup Sponge is infused with silicon. This makes it the perfect tool for achieving full coverage base makeup without wasting your precious products. The silicon infusions in the beauty sponge prevent it from absorbing any unnecessary foundation and make your makeup look flawless. You can save up to 50% of your products when you use our sponge! 
We even performed a little experiment with the SILC.ON Makeup Sponge to show you guys just how well it performs and its ability to give the best results.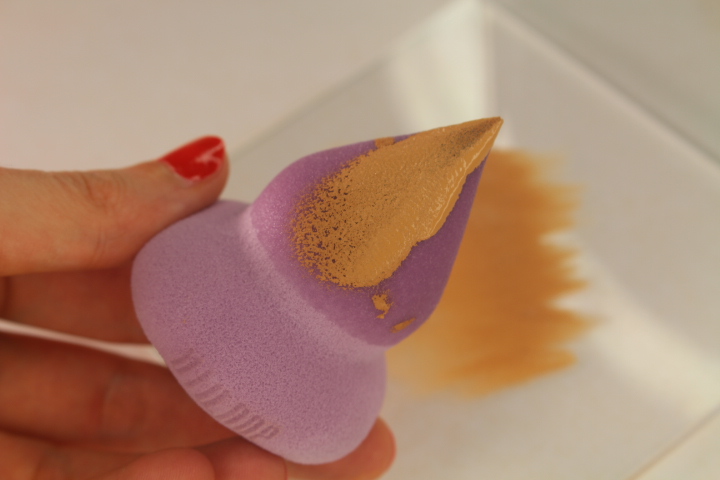 This is what the beauty sponge looks like when you pick up some product with it. Now let's see what happens when we cut it in half.
And voila! Would you look at that? No product is absorbed by the SILC.ON Makeup Sponge, despite the initial amount that it picked up.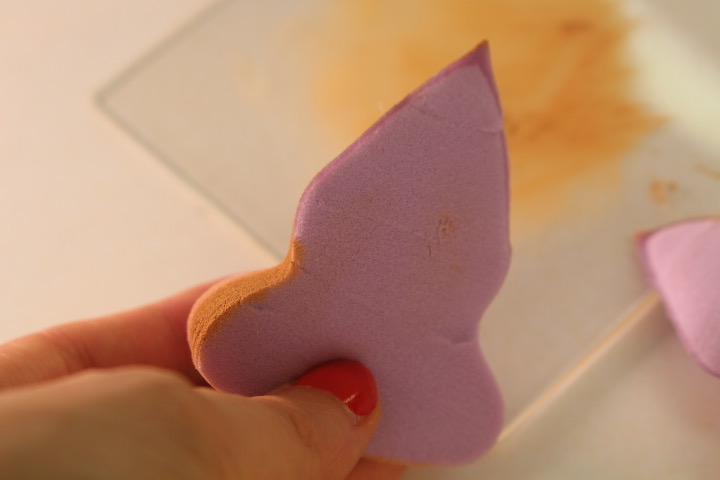 No more expensive foundations going down the drain either. This also limits the number of bacteria and germs that can potentially be absorbed by the sponge. This also makes it much easier to clean regularly. You won't have to exhaust yourself just to make sure your beauty sponge is spotless. Now you can get the best possible hygiene alongside flawless makeup. Yay!
Plus, the pointed edge of the beauty sponge is ideal for applying makeup to the areas on your face which are harder to reach, like the inner corners of your eyes. Additionally, our beauty sponge can also be used to set the under eyes with powders to prevent your concealer from creasing. And the best part is that it will melt everything into your skin to give a blurred and dreamy finish to your makeup.
So you basically get multiple benefits by using just one tool, which is the SILC.ON Makeup Sponge.
Moving on to the softer bottom half of the beauty sponge. It is designed with the purpose to make gripping the beauty sponge more secure. Moreover, it is soft and squishy and is excellent for achieving dewy makeup looks. You can pat in your lightweight foundations or tinted moisturizers using the bottom half of the SILC.ON Makeup Sponge for a natural, glowy look that is perfect for daily wear.
Now that you know everything you possibly can about our Vianne SILC.ON Makeup Sponge, what are you waiting for? Grab yours now!